» Current Page: How ANKO Provides Beef Roll Making Machine And Also Delivers Professional Solutions to Win Client's Heart
How ANKO Provides Beef Roll Making Machine And Also Delivers Professional Solutions to Win Client's Heart
30 October, 2017
40 Years ago, when ANKO started their food machine supply business, they accepted orders with various requirements and provided the best after services in order to stay competitive. Today, even though they've sold food machines to over 110 countries, their principles stay the same. You might be wondering how ANKO competes with other processing equipment manufacturers from Germany, Japan, Italy and Switzerland, but if you look closely, it's not that hard to understand.
A few years ago, a food supplier of McDonald's approached ANKO for baked beef roll processing equipment at a trade show. It was McDonald's menu; the breaded beef roll contains vegetable, sauce and chunky meat. The fair amount of beef steak within is moist and tender, but strikes a nice balance.
ANKO suggested standard processing equipment because it was designed to complete tasks in each particular station: dough mixing, filling making, filling, rolling, cutting and forming. For example the first station would be making wrapper with the size of 25*3 cm; second station 25*1.5 cm. It will continue to do the same thing until meeting the right size.
Correlation between Food Machine Design and Wrapper Making Process
When ANKO designs a food machine, the food ingredient's character is studied and used in the design of the food machine. In this case, after the dough is made by a dough mixer, how the wrapper is formed can vary. Flour dough containing yeast is rolled out flat by a roller that simulates roller pin's movement. It is to avoid lattice destruction during the fermentation of dough. On the other hand, dumpling dough wrapper is created with a different machine design since it doesn't have yeast in it, which means no fermentation is required.
Food Machine Solutions for Meat Jamming
After some communication, our machine was installed at the plant as requested: 220v 60 hertz, width 25 cm and thinness 3 cm of breaded beef roll. It was up and running fast. Yet, when the client took a bite of a baked beef roll, the meat was too small. Blocks of beef cubes were expected, not meat paste. To solve the issue, ANKO modified the pitch between blades of the filling machine and in the end was able to keep the meat size reasonably large.
While the meat size was cut with the expected size, unfortunately, it caused jamming. The cooked beef slowly accumulated at the entrance, and the beef roll was either made too large or too small. ANKO recommended raw and smaller beef chunks but it was not acceptable, "We need to ensure the beef is fully cooked before putting it in the oven to avoid contamination and each bite of the beef roll should contain full size of beef pieces as it is how we market our food.", the client claimed. In the end, ANKO recommended adding more sauce as a lubricant. Without sacrificing client's needs, ANKO was able to make it work in the end.
Food Machine Customization – Roller Cutter
When wrapper skin is formed, filling and rolling is the next step. While rolling the wrapper skin, to prevent the double folding of dough skin that causes uneven taste, a roller cutter is equipped to cut off the extra dough skin. And the cut off dough skin is collected for continued use.

Bursting Sauce of Breaded Beef Roll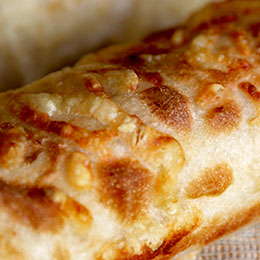 Sprinkled cheese on top of bread becomes a net to prevent leaking sauce
Finally, breaded beef roll was put in the oven for the 1st time. However, the whole thing exploded and the sauce simply leaked out. The sauce in the bread reached the boiling point and erupted the whole thing.
ANKO and the client tried a few things to resolve the dilemma: putting a hole in the bun before baking, increasing the thickness of the skin wrapper, less sauce, prolonging fermentation time, modifying temperature, using different baking method, etc. It seemed like the problem could never be solved. The client even invited ANKO to their food lab to discuss the issue. It had been one and a half months since the issue arose, but nothing worked. "How about making a "net"? Sprinkle some cheese on top of the bread to hold the whole thing together?" And it worked! Both ANKO's team and the client were thrilled.
ANKO has showed that they are not only a food machine manufacturer; their 40 Years of seasoned experience has allowed them to provide more than what you expect, regardless food recipe, production capability, food market trend, and food machine customization.
Even now, ANKO's client still purchases various food machine components for regular maintenance. They don't just sell food machines and leave; they stay for the whole thing, 24 hours a day. Apart from baked breaded beef roll, the client has been developing various flavor of meat rolls to expand their frozen food market, including kimchi & beef, chicken & cheese, black pepper & pork, cheese & ham, tomato & mushroom.