Anko Food Machine Co., Ltd.
Blini processing machine supplier - ANKO
Quality blini making machine design
Food processing machines for spring roll pastry. spring roll. samosa. puff pastry. paratha. lacha paratha. green scallion pie. chapati/roti. pita bread. Chinese egg roll. Chinese hamburger (gua bao). crepe. bilini. Chinese egg pancake. peking duck wrapper. flour tortilla. burrito. piadine. Vietnamese spring roll. lumpia.
» Current Page: Blini
Blini processing machine supplier - ANKO
Blini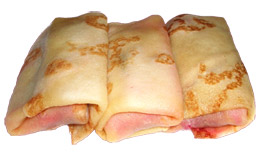 Located in Taiwan, ANKO is one of the prime food machine | industrial bakery equipment manufacturers since 1978. ANKO provides cost-effective food processing equipment line that is CE approved to meet safety requirements based on 40 Years of experience. Today, their food manufacturing equipment has sold to over 110 countries. Contact ANKO now to get the best deal!
Blini had a somewhat ritual significance for early Slavic peoples in pre-Christian times since they were a symbol of the sun, due to their round form. They were traditionally prepared at the end of winter to honor the rebirth of the new sun (Butter Week, or Maslenitsa). This tradition was adopted by the Prthodox chorch and is carried on to the present day. Blinis are also served at wakes to commemorate the recently deceased.
Traditional Russian blinis are made with yeasted batter, which is left to rise and then diluted with cold or boiling water or milk. When diluted with boiling water, they are referred to as zavarniye blini. The blinis are then baked in a traditional Russian oven. In fact, the process of cooking blini is still referred to as baking in Russian, even though these days they are almost universally pan-fried, like pancakes. French crêpes made from unyeasted batter (usually made of flour, milk, and eggs) are also not uncommon in Russia, where they are called blinchiki and used for making blini: from wheat and buckwheat to oatmeal and millet, although wheat is currently the most popular by far.
Fully automatic blini production line BN-24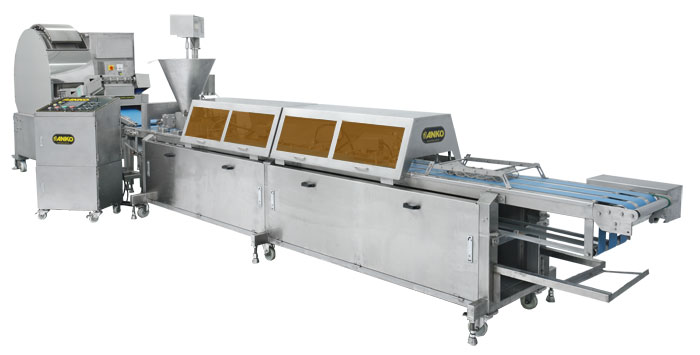 Specification of Fully automatic blini production line BN-24
| | |
| --- | --- |
| Model No. | BN-24 |
| Size | 8200(W) x 2200(D) x 2000(H)mm |
| Power | 380V, 50Hz, 3 phase |
| Size of spring roll | Length:90~100mm, Diameter:20~30mm |
| Weight of Belni | 35~75g, Capacity:2, 400pcs/hr |
| Capacity | 2,400 pcs/hr |

Next :
Chinese egg pancake

Previous :
Crepe