Chinese Crepe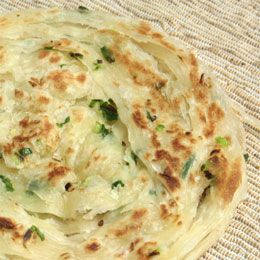 Chinese crepe, Green scallion pie
Chinese crepe is a traditional street food in Asia, you can see them particularly in Taiwan, China, Thailand, Singapore, Vietnam, etc. Chinese crepe is also called Cong You Bing and Jian Bing, and is treated as a salty snack. You can buy Chinese crepes from street vendors, at small restaurants, night markets, before going to work, after school or after a long day if you just want a quick bite. Chinese crepe is cheap and tasteful; unlike some crepes, which are made of more than ten ingredients, Chinese crepe is cooked using just four ingredients, which are flour, eggs, scallions and roasted pork. The trick is the paste, which is added over and over on the crepe with specially made chili sauce and soy sauce that gives it a great taste. Chinese crepe in Beijing uses roasted pork on the crepe as a final step before folding it up, whereas there are various toppings in other countries.

Check out other related Chinese crepe processing machines: Chong You Bing, Chinese Egg Roll, Spring Roll Pastry, Spring Roll, Peking Duck Wrapper, Lumpia/ Cigar Roll

Thai Crepe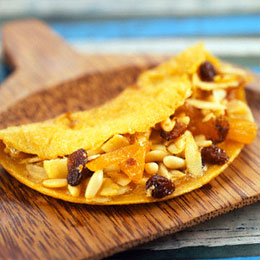 Thai crepe, Thai crispy pancake
Different from most of crepes, Thai crepe's size is very small, it can be folded into a roll or a triangle shape. Sweet Thai crepe, also called Khanom Buang or Khanom Bueng) is made of rice flour, mungbean flour, egg yolk and palm sugar. After the crepe is made, coconut milk cream is added to gain its unique taste. For salty Thai crepe, what local people put inside of the crepe is quite exotic compared to other crepes around the world. Thai crepe's toppings could be orange marmalade, coconut oil or spray, strawberry jam, chocolate syrup, slices of hotdogs, shredded pork, different types of chili paste like nam prik ong, which is made from roasted chili peppers.

Check out other related Thai crepe processing machines: Peking Duck Wrapper

Vietnamese crepes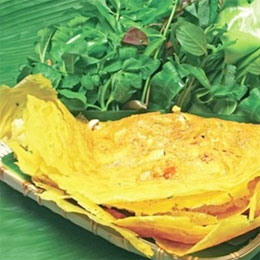 Banh Xeo -Vietnamese crepes, Vietnamese country pancake
Vietnamese crepes, are also called Banh Xeo; Banh means cake and Xeo indicates the sizzling sound, therefore, the whole word means sizzling cake. Vietnamese crepes are like rice paper, which is used as wrappers to contain banh xeo and the accompanying vegetables. The secret of the Vietnamese crepe is the pork oil they use, of course you can use vegetable oil if you are on a diet, but the pork oil gives a nice flavor to it. Vietnamese crepe uses rice flour as batter and mix with coconut milk or cocoa spray to add a nice taste. Its main ingredients are shrimp, pork, onion, scallions and bean sprout. As you can see, it might taste a bit fishy, but for some seafood lovers, they would love it.

Indian Crepe - Dosa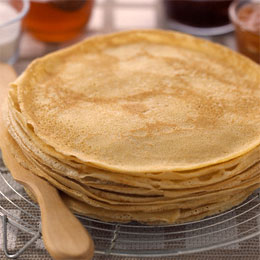 Indian crepe - Dosa
Indian cuisine is one of the most international foods in the world because it's full of spices, herbs, fruits and vegetables. Food variation and cooking technique are different from region to region, even with fermented crepes, there are many types. In India, the crepe is called Dosa, Dosay, Dose and Dosai, which comes from South India originally, and is treated as a breakfast dish and street food.
People might think Dosa is unhealthy, however, after comparing other crepes' recipes, Indian crepe's batter is perhaps the most healthy, if you know what's in it. Dosa's batter is blended with rice, urad dal, channa dal, methi seed and lentil, which contains rich carbohydrates and protein, and is gluten-free. You can make various kinds of Dosa by adding different kinds of fillings and pastes; you can create different shapes of Dosa by using various techniques. After Indian crepe is made, curry, curd, muddha pappu, indian pickle, web chutney and sambar is usually eaten with it.
There are so many types of Dosa that makes indian crepe become so interesting, it includes chilli dosa, onion dosa, butter dosa, masala dosa, methi dosa, cone dosa, neer dosa, ghee dosa, etc.

Check out other related Indian crepe processing machines: Pita Bread, Lacha Paratha, Samosa

French Crepe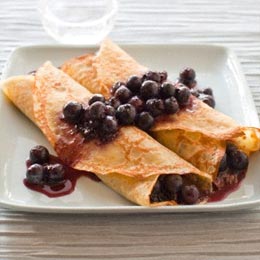 French crepe
French crepe is popular in France; it is a style of food like any other French cuisine. Because of its popularity, it has become a national food and is accessible everywhere in France. In France, you can buy crepes (crêpe) with syrup and butter, or you can get crepes (crêpe) with many fillings. French cuisine is a style of food, it's not just about how it tastes, it's also about how it looks. Therefore, French crepe always looks elegant and enjoyable.

Check out other related French crepe processing machines: Blini, Flour Tortilla, Burrito
In Swedish, crepes are called "Pannkaka", in Dutch, they are named "pannenkoek" or "Flensjes" and in Afrikaans they are called "pannekoek". In Italy, crepes are called "crespella"; In Galicia, they're called "filloas"; in Asturias, they're called "fayueles" or "frixuelos". In Turkey, they are called "Akıtma", and In Chile and Argentina, they are called "panqueques". In areas of Eastern Europe, there is a thin pancake comparable to a crepe that is called "Palatschinken" or "Omletten". In Hungarian, crepes are called "palacsinta", and in Bosnian, Serbian, Bulgarian, Macedonian, Montenegrin, Czech, Croatian, Slovene and Bosnian, crepes are called "palačinka". In Slovak, it is named "palacinka".

A Crepe Processing Machine Manufacturer - ANKO
ANKO is a leading Taiwanese company that has been selling food processing machines for more than 30 years, and their seasonal experience on building crepe processing machines has allowed them to customize every crepe machine in order to create dynamic shapes and flavors of crepe. Every crepe processing machine customer is satisfied with their purchase, and the main reason is because the crepe processing machine is beneficial to their business. Therefore, ANKO's customers never just buy one crepe machine and leave.

More about ANKO
Automatic Square Crepe Production Line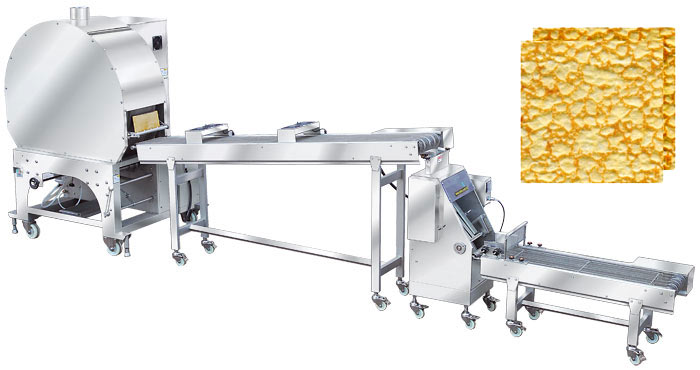 Automatic spring roll and samosa pastry sheet machine - SRP series
Model Number
SRP-20A
SRP45A
Height
1570m/m
1800m/m
Width
930m/m
1200m/m
Depth
3500m/m
5800m/m
Electricity (Special power can be accommodated)
220/380/415V, 50/60Hz, 3Phase, 18Kw
220/380/415V, 50/60Hz, 3Phas, 35Kw
Cpaicity
Spring roll
900-1200
2400-2700
Samosa
2700-3600
7200-8100