Anko Food Machine Co., Ltd.
Pita bread processing machine manufacturing
Functional, productive pita bread making machine
Food processing machines for spring roll pastry. spring roll. samosa. puff pastry. paratha. lacha paratha. green scallion pie. chapati/roti. pita bread. Chinese egg roll. Chinese hamburger (gua bao). crepe. bilini. Chinese egg pancake. peking duck wrapper. flour tortilla. burrito. piadine. Vietnamese spring roll. lumpia.
» Current Page: Pita bread
Pita bread making machine manufactured with total solutions
Pita Bread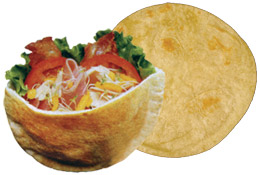 Located in Taiwan, ANKO is one of the prime food machine | industrial bakery equipment manufacturers since 1978. ANKO provides cost-effective food processing equipment line that is CE approved to meet safety requirements based on 40 Years of experience. Today, their food manufacturing equipment has sold to over 110 countries. Contact ANKO now to get the best deal!
Pita Bread is a kind of round pocket bread slightly leavened and could be filled with various foods. It's popular in Middle Eastern and Mediterranean and North Africa cuisines, called pita, pitta or khubz. Pita bread is originated from Arabian Peninsula. It's considered by historians as one of the most ancient breads. An Arab cookery book mentioned it in 10th century.
Pita bread is baked in a brisk oven. It is slightly leavened wheat bread, flat, either round or oval and aviralbe in size. The tenth-centery Abrey cookery book, Kitab al-Tabikh by ibn Sayyar al-Warraq, includs six recipes for khubz, all baked in a tannur, which is like the modern tandoor oven, in its Chapter 13, Historians believe its history extends far into antiquity since flatbread in general, whether leavened or not, are among the most ancient breads needing no oven or utesil for their baking. The first evidence of flat breads occur in and around Amorite Damascus.

Next :
Chinese egg roll

Previous :
Chapati / Roti