Anko Food Machine Co., Ltd.
Quality piadine | Piadina processing machine supply
ANKO – A Food Processing Machine Supplier
Food processing machines for spring roll pastry. spring roll. samosa. puff pastry. paratha. lacha paratha. green scallion pie. chapati/roti. pita bread. Chinese egg roll. Chinese hamburger (gua bao). crepe. bilini. Chinese egg pancake. peking duck wrapper. flour tortilla. burrito. piadine. Vietnamese spring roll. lumpia.
» Current Page: Piadine
Quality piadine | Piadina processing machine supply from ANKO
Piadine | Piadina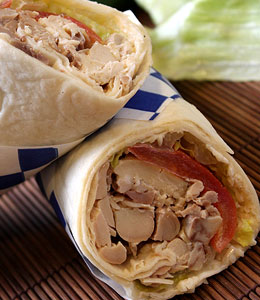 ANKO is one of the prime food machine | industrial bakery equipment manufacturers since 1978. ANKO provides cost-effective food processing equipment line that is CE approved to meet safety requirements based on 40 Years of experience. Today, their food manufacturing equipment has sold to over 110 countries. Contact ANKO now to get the best deal!
Piadine (the Plural form) originated in the Romagna region of Italy, in the central-North area of the country. It was originally a peasant's food, as it is unleavened, and made of a few simple ingredients.
Yes, it is very similar to the Mexican or Central American flour tortilla, both in composition and in form. They both utilize a medium-protein flour, salt, water, and some form of shortening. The tortilla traditionally uses lard, however, while the piadina generally uses olive oil. Both are rolled to the same approximate size and thickness; but the tortilla is far morecommon than the piadina. Tortillas are served with lighter fare, such as salads, or slivers of cured meats and cheeses.
Both breads are common street-vendor foods; but again, the piadina is most often seen at those sorts of carts, or in a home kitchen; while the tortilla may now be found in nearly overy kitchen, from the lowest to the most haute.
Automatic piadine wrapping machine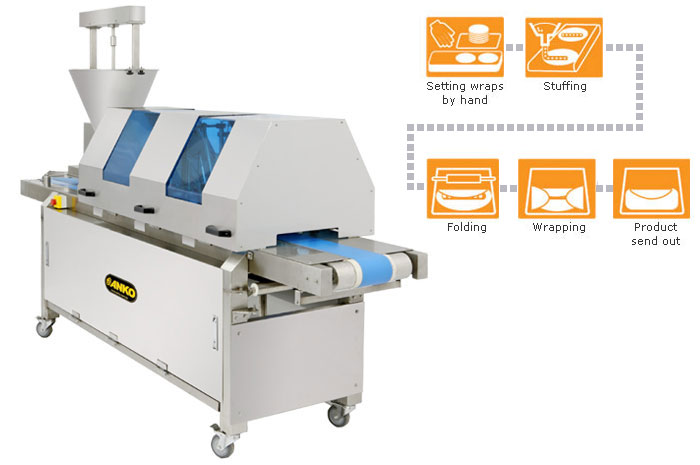 Automatic piadine wrapping machine
Specification of Automatic piadine wrapping machine
| | |
| --- | --- |
| Model No. | BR-1800 |
| Length | 3500mm |
| Width | 700mm |
| Height | 200mm |
| Electricity | 110V/220V, Single Phase, 0.2kw |
| Suitable Pastry Size | 10" |
| Capacity | 1800 pcs/hr |

Next :
Vietnamese spring roll

Previous :
Burrito