Anko Food Machine Co., Ltd.
Lumpia processing machine supply
Food processing machine with quality design and customization
Food processing machines for spring roll pastry. spring roll. samosa. puff pastry. paratha. lacha paratha. green scallion pie. chapati/roti. pita bread. Chinese egg roll. Chinese hamburger (gua bao). crepe. bilini. Chinese egg pancake. peking duck wrapper. flour tortilla. burrito. piadine. Vietnamese spring roll. lumpia.
» Current Page: Lumpia
ANKO's lumpia processing machine designed to be efficient
Lumpia (open both sides)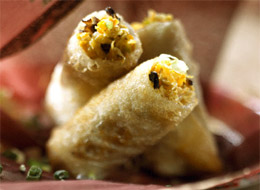 Located in Taiwan, ANKO is one of the prime food machine | industrial bakery equipment manufacturers since 1978. ANKO provides cost-effective food processing equipment line that is CE approved to meet safety requirements based on 40 Years of experience. Today, their food manufacturing equipment has sold to over 110 countries. Contact ANKO now to get the best deal!
Lumpia are pastries of Chinese origin similar to fresh popiah or fried spring rolls popular in Indonesia and the Philippines. The term lumpia derives from Hokkien lunpia (traditional Chinese: 潤餅; pinyin: rùnbǐng; Pe̍h-ōe-jī: jūn-piáⁿ, lūn-piáⁿ), which is an alternate term for "popiah". The recipe, both fried and fresh versions, was brought by the Chinese immigrants from the Fujian province of China to Southeast Asia and became popular where they settled in Indonesia and the Philippines.
In the Netherlands and Flanders, it is spelled loempia which is the old Indonesian spelling for lumpia and has also become the generic name for "spring roll" in Dutch. A variant is the Vietnamese lumpia, wrapped in a thinner piece of pastry, in a size close to a spring roll though; the wrapping close the ends off completely, which is typical for lumpia.
Automatic single / double production line of open ends finger spring roll FSP-Series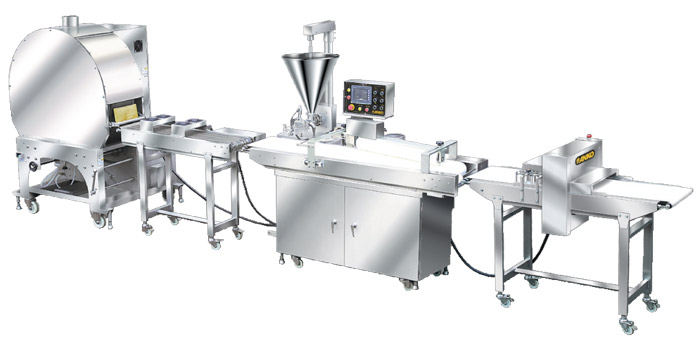 Specification of Automatic single / double production line of open ends finger spring roll FSR-Series
Model No.
FSP-6400/75
FSP-12800/75
Diameter of Baking Drum
1200mm
1200mm
Length
6500mm
8500mm
Width
1500mm
2700mm
Height
2400mm
2400mm
Electricity
220/380/415V, 50/60Hz, 3Phase
220/380/415V, 50/60Hz, 3Phase
35kw
58kw
Stuffing Hopper Capacity
31L
31L
Net Weight
600kgs
30kgs

Next :
Cigar roll

Previous :
Vietnamese spring roll