» Current Page: Chocolate Bakery Equipment Designs For The Most Popular Bread in Japan, "Chocolate Angel Ring"
ANKO's Bakery Equipment Customization For Chocolate Stuffed Heart Bread ANTIQUE
In Japan, there's one kind of bread called "Chocolate Angel Ring", and its huge popularity forced the company, Heart Bread ANTIQUE, to seek bakery equipment solutions to replace their original ones. In the end, Heart Bread ANTIQUE withdrew their previous bakery equipment procurement from the Japanese company and ordered all new bakery equipment that were customized by ANKO. Now, ANKO's Angel Ring bakery equipment is installed at malls and department stores with successful business, and ANKO's relentless design of solid bakery production equipment for clients paid off.
Chocolate Angel Ring (Chocoring) of Heart Bread ANTIQUE
Heart Bread ANTIQUE (天使のチョコリング) is the most popular bakery in Tokyo. In Tokyo, you can see people line up in front of the stores just to buy this particular bread named Angel Ring. Angel Ring is also called Angel's chocolate ring or Angel Chocolate Ring or Chocolate Angel Ring; it is a doughnut-shaped sweet pastry sprinkled with chocolate stuffed and almond nuts. In Japan, Angel Ring has become one of the favored sweet treats. However, because of the increased demand for Angel Rings, the long delivery time and expensive labor cost, Heart Bread ANTIQUE started to look for alternative solutions. Heart Bread ANTIQUE checked with their original bread production equipment supplier, but with the long development time that would have been involved in the project, the company rejected that plan. Finally, Heart Bread ANTIQUE consulted ANKO for solutions, and ANKO made it happen based on their 40 Years' of bakery equipment experience.
Bakery Requirement from Heart Bread ANTIQUE
Previously, Heart Bread ANTIQUE was using an 8 meter long Angel Ring bread production line, and all of the Angel Rings made therein were delivered to the bakeries afterward. The 8 meter Angel Ring bakery production equipment line required manual labor for water spreading, skin wrapping, and chocolate stuffed and almond nuts spreading. To save time and cost, Heart Bread ANTIQUE decided to procure bakery equipment that are small enough to fit in the bakeries, and also operate automatically without manual labor. As a result, Heart Bread ANTIQUE and ANKO customized and designed a fully automatic 4-meter bakery equipment in two months for installation in the bakery.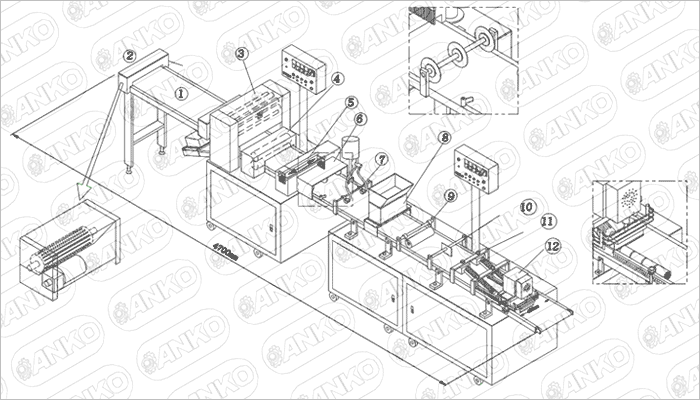 Chocolate Angel Ring Bread Production Equipment Line, SB-8236L
(1.Dough skin conveyor 2.Powder sprayer 3.Dough thinning device 4.Dough pressing roller 5.Brush device
6.Cutting device 7.Water spraying device 8.Chocolate bean sprinkler 9.Firming rollelr device
10.Dividing device 11.Bread roll up device 12.Cutting device)
Cost-Saving. Time-Saving Bread Production Equipment Tailored By ANKO
The disadvantage of the original 8-meter bakery equipment that was made by a Japanese company was its floppy skin after wrapping. To improve it, handmade wrapping was required to make it tighter. In addition, chocolate and nut sprinkling also required manual labor with the 8-meter bread production equipment. In general, the original bakery equipment was not very practical for Heart Bread ANTIQUE, who requires low-labor costs and money-saving bakery equipment. With the new machine, instead of hand pressing dough skin to make the bread tighter, ANKO enhanced the weight of the roller to solve the problem. At the same time, hand spreading of water and nuts were replaced by the new bread production equipment as well.
ANKO is a leading bakery equipment manufacturer in Taiwan. Their bakery equipment are fabricated for making foods that require high production capabilities. Popular bakery equipment including sweet bread, milk bread, masala bread, garlic bread, fruit bread,req fruit buns, hamburger buns, dinner rolls, crisp bread, pizza, cakes, pastries, doughnuts, muffins, etc.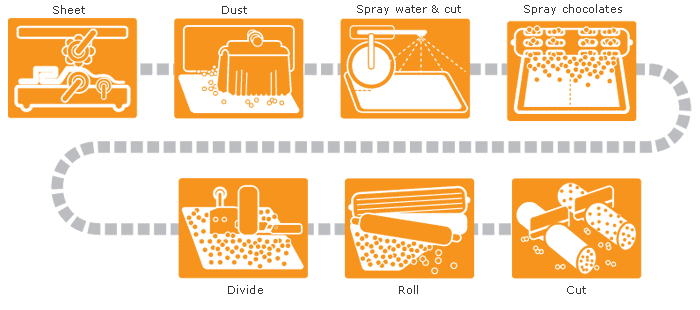 Angel Ring Bread Production Equipment Flow Chart