Anko Food Machine Co., Ltd.
Burrito processing machine supply
Food processing machine design for your burrito
Food processing machines for spring roll pastry. spring roll. samosa. puff pastry. paratha. lacha paratha. green scallion pie. chapati/roti. pita bread. Chinese egg roll. Chinese hamburger (gua bao). crepe. bilini. Chinese egg pancake. peking duck wrapper. flour tortilla. burrito. piadine. Vietnamese spring roll. lumpia.
» Current Page: Burrito
ANKO's food processing machine design for your burrito
Burrito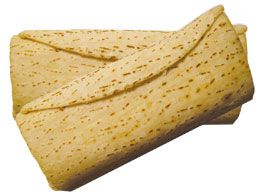 Located in Taiwan, ANKO is one of the prime food machine | industrial bakery equipment manufacturers since 1978. ANKO provides cost-effective food processing equipment line that is CE approved to meet safety requirements based on 40 Years of experience. Today, their food manufacturing equipment has sold to over 110 countries. Contact ANKO now to get the best deal!
Hand-held take-out foods like the burrito have a long history. Before the Spanish colonization of the Americas, indigenous peoples were eating hand-held snack foods like corn on the cob, popcorn and pemmican. In Mexico, the Spanish observed Aztecs selling take-out foods like tamales, tortillas, and sauces in open marketplaces. The Pueblo people of the desert Southwest also made tortillas with beans and meat sauce fillings prepared much like the modern burrito we know today.
Cuisine preceding the development of the modern taco, burrito, and enchilada was created by the Pre-Columbian Mesoamerican Aztec peoples of Mexico, who used tortillas to wrap foods, with fillings of chile sauce, tomatoes, mushrooms, squash, and avocados. Spanish missionaries like Bernardino de Sahagún wrote about Aztec cuisine, describing the variety of tortillas and their preparation, noting that the Aztecs not only used corn in their tortillas, but also squash and amaranth, and that some varieties used turkey, eggs, or honey as a flavoring.
Automatic burrito wrapping machine BR-1500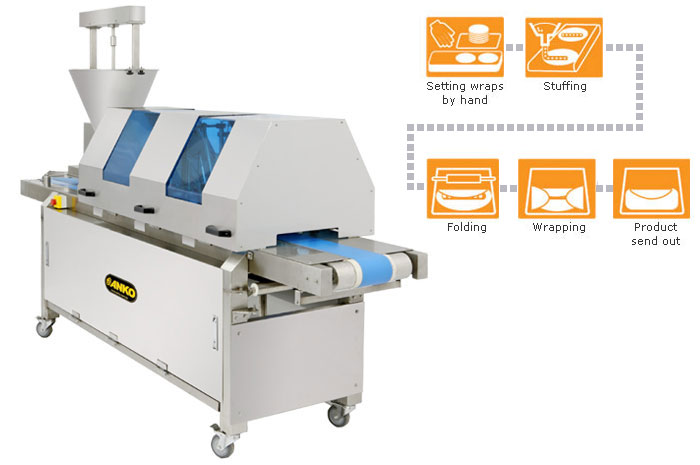 Automatic burrito wrapping machine BR-1500
Specification of automatic burrito wrapping machine BR-1500
| | |
| --- | --- |
| Model No. | BR-1500 |
| Length | 3500mm |
| Width | 700mm |
| Height | 200mm |
| Electricity | 110V/220V, Single Phase, 0.2kw |
| Suitable Pastry Size | 10" |
| Capacity | 1500 pcs/hr |

Next :
Piadine

Previous :
Flour Tortilla