Anko Food Machine Co., Ltd.
Thepla Machine and Equipment
Thepla Processing Turnkey Project Provider - ANKO
Food and Bread Machine with 30 Years of Thepla Equipment Experience
ANKO SD-97SS food production for:
Current Page:
Thepla Machine and Equipment
» Thepla Machine and Equipment (SD-97SS)
Table Type Automatic Encrusting And Filling Machine | ANKO Arancini Equipment
Thepla Machine and Equipment (SD-97SS)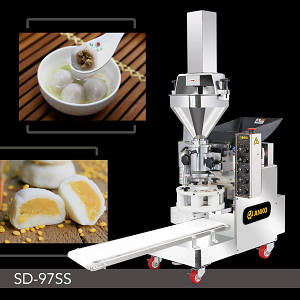 | | |
| --- | --- |
| Location | Taiwan |
| Brand Name | ANKO |
| Model Number | SD-97SS |
The new SD-97SS is specially designed for small factories and shops. Exquisite machine size makes it easy to install, clean and maintain. SD-97SS is suitable for making confectioneries, savory food and ethnic food.

Features
More Flexible and Convenient

It is attached with conveyor and turntable. Changing it easily for need or different shapes of product. It is suitable for shops and factories.

Various Food Products and Fillings

By changing different forming shutters, it could produce various products as mochis, rice balls, kibbehs, moon cakes, maammouls ,cookies, etc. Fillings could be paste, powder, minced meat, crushed nut , strawberry, plum, bird egg, etc.

Stainless Machine Body, meet to food sanitation standard
Solid shutter system strengthens the production stability.
Specification
Machine Size
Electricity

220V, 50/60Hz,Single Phase, 0.63kw

Product Weight
Capacity
Net Weight
Video for Thepla Production (SD-97SS)
Table Type Automatic Encrusting And Filling Machine for Thepla Machine

More Food and Bread This Thepla Machine Provided:
Arancini

Arepa

Pistachio Mamoul

Biscotti
Biscuit

Bread

Bunuelos

Crystal Dumpling 1

Chapati

Chin chin

Chocolate Crinkle

Ciastak Nadziewane

Coxinha

Croquetas

Chao Zhou Dumpling

Fruitbars

Falafel

Filled Breads

Filled Bread

Filled Bread Stick

Filled Cookies

Filled Glutinous Rice Ball

Fruitbars

Gulab Jamun

Iceboxcookie

kibbe

kubba round

Kluski Na Parze Steamed Dumpling

Kluski Slaskie Silensian Dumplings

Knedle Dumpling Filled With Fruits

Kubba

Kubba
Fried Kebab Balls

Maamoul

Maamoul

Ma'amoul

Ma'amoul

Ma'amoul

Mammoul

Meat Pie

Mochi

Moon Cake

Nane Khormay

Nastar

Pampuch

pan fried stuffed bun

Peckin Duck Wrapper

Peda

Pineapple Cake

Pyzy

Puri

Rusgulla

Roti

Scallion Cake

Sesame Ball

Taiwanese Meat Ball

Thepla

Tortilla

Vareniki

Zrazy
Data Source
https://www.anko.com.tw/en/product/sd-97ss.html

Next :
Tortilla Machine and Equipment SD-97SS

Previous :
Taiwanese Meat Ball Machine and Equipment SD-97SS