Anko Food Machine Co., Ltd.
Marzipan Machine and Equipment
Marzipan Processing Turnkey Project Provider - ANKO
Food and Bread Machine with 30 Years of Marzipan Equipment Experience
ANKO GD-18B food production for Marzipan Machinery and Equipment:
Current Page:
Marzipan Machine and Equipment
» Marzipan Machine and Equipment (GD-18B)
Professional Industrial Marzipan Production Line Supply | ANKO
40 years, 300 recipes, 30 food machines, a team of professional consultants for you to make smart Marzipan machine ordering decisions. ANKO, since 1978, owns 70% of food machine market in Taiwan and has sold their products to over 112 countries.
From single Marzipan processing equipment to production line design and manufacturing, ANKO's engineering team has always come up with innovative design to make sure your Marzipan business is profitable. The Marzipan equipment you receive from ANKO aims to be cost-effective, and the production capacity is high.
ANKO has been offering customers high-quality industrial Marzipan processing equipment, both with advanced technology and 40 years of experience, ANKO ensures each customer's demands are met.
View our quality products food machine, food processing equipment, food processing machinery manufacturers, industrial bakery equipment, bakery equipment manufacturers and feel free to
Contact Us
.
Automatic Cutting And Rounding Machine | ANKO
Marzipan Machine and Equipment (GD-18B)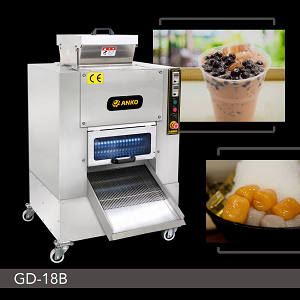 | | |
| --- | --- |
| Location | Taiwan |
| Brand Name | ANKO |
| Model Number | GD-18B |
Unique design. Put well-kneaded material into machine. The machine will cut & round it to finished product.

Features
Various standard products
Except wheat flour, it is specially designed for making starch balls, fish, baits, boiles, or pills.
Easy to Operate. Saving Time and Labor
Operator needs no experience. Production is rapid.
Various Shape of Products
It can produce round shape. rectangle shape, square shape, pill shape, etc.
High Capacity - GD-12
Dia. of product: 0.95cm: 30kgs/hr
Dia. of product: 1.75cm: 180kgs/hr
Specification
| | GD-12 | GD-12B |
| --- | --- | --- |
| Length | 800mm | 800mm |
| Width | 800mm | 800mm |
| Height | 1200mm | 1200mm |
| Electricity | 110/220/380V, Single/3Phase , 0.75kw | 220/380V, Single/3Phase , 1.5kw |
| Net Weight | 240 kgs | 260 kgs |
Video for Marzipan Production (GD-18B)
Automatic Cutting And Rounding Machine for Marzipan Machine

More Food and Bread This Marzipan Machine Provided:

Fish Baits

Gnocchi

Glutinous Rice Ball

Rusgulla

Marzipan

Peda

Next :
Peda Machine and Equipment GD-18B

Previous :
Rusgulla Machine and Equipment GD-18B