Anko Food Machine Co., Ltd.
Crepe Machine and Equipment
Crepe Processing Turnkey Project Provider - ANKO
Food and Bread Machine with 30 Years of Crepe Equipment Experience
ANKO SRP Series food production for Crepe Machinery and Equipment:
Current Page:
Crepe Machine and Equipment
» Crepe Machine and Equipment (SRP Series)
Professional Industrial Crepe Production Line Supply | ANKO
40 years, 300 recipes, 30 food machines, a team of professional consultants for you to make smart Crepe machine ordering decisions. ANKO, since 1978, owns 70% of food machine market in Taiwan and has sold their products to over 112 countries.
From single Crepe processing equipment to production line design and manufacturing, ANKO's engineering team has always come up with innovative design to make sure your Crepe business is profitable. The Crepe equipment you receive from ANKO aims to be cost-effective, and the production capacity is high.
ANKO has been offering customers high-quality industrial Crepe processing equipment, both with advanced technology and 40 years of experience, ANKO ensures each customer's demands are met.
View our quality products food machine, food processing equipment, food processing machinery manufacturers, industrial bakery equipment, bakery equipment manufacturers and feel free to
Contact Us
.
Automatic Spring Roll And Samosa Pastry Sheet Machine | ANKO
Crepe Machine and Equipment (SRP Series)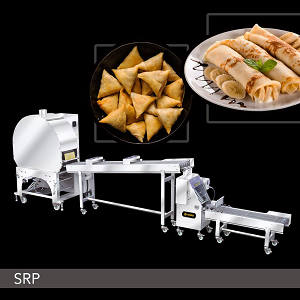 | | |
| --- | --- |
| Location | Taiwan |
| Brand Name | ANKO |
| Model Number | SRP Series |
With a unique and reliable design, the SRP series can make spring roll pastries and samosa pastry sheets. After the pastry sheets are cut, they are counted and stacked in piles being a conveyor belt ready for packaging.

Features
Unique and Reliable Design
Stages of Pastry Sheet Production

MIXING -> FEEDING -> BAKING -> CUTTING -> COUNTING -> STACKING

Adjustable Pastry Sheet

Maximum Width: 220 mm (special sizes can be accommodated)
Pastry Thickness: 0.4~0.8 mm
Specification
SRP-20A

Height: 1570mm
Width: 930mm
Length: 3500mm
Electricity (Special power can be accommodated): 220/380/415V, 50/60Hz , 3Phase , 19Kw
Capacity- Spring Roll: 900~1200 pcs/hr ; Samosa: 2700~3600pcs/hr



SRP-45A

Electricity (Special power can be accommodated): 220/380/415V,50/60Hz , 3Phase , 35Kw

Capacity: 2400~2700 pcs/hr
More Food and Bread This Crepe Machine Provided:

Bliny

Blintzes

Cheese Samosa

Nalesniki

Samosa

Samosa Pastry

Spring Roll

Spring Roll Pastry

Crepe

Spring Roll Pastry

Next :
Blini Machine and Equipment SRPF Series

Previous :
Spring Roll Pastry Machine and Equipment SRP Series