ANKO's Bakery Bread Machine Turnkey Project For Abou Laban From Syria
All kinds of Puff Pastry Made By A Bakery Bread Machine Expert - ANKO
Abou Laban is a food company from Syria and their bakery bread machine turnkey project requires a bakery bread machine manufacturer who has the ability to integrate and design based on their requirements. After consulting with Abou Laban and realizing their requirements regarding bakery bread machine and machine size, production and functionality expectations, ANKO's engineering team designed a professional 64-layer puff pastry production line with bakery bread machine based on the handmade process with an accurate recipe. It is a 10 x 13 meter bread production equipment production line that includes a dough hopper, a butter extruding machine, a sheeting and pressing machine, a folding machine, a flattening and a pressing machine, a swing and folding machine to make layers, a rolling and forming machine, a machine to cut the plastic film and a clamping and stocking machine, etc.
ANKO has sold their bakery bread machine for more than 40 Years to 110 countries, which has allowed them become very competitive in the bakery bread equipment industry. ANKO is able to design bread production equipment with production lines that fabricate more than 100 layers of pastries; in addition, they are the only Taiwan bakery bread machine manufacturer who has the capacity for designing complicated production lines to fulfill each turnkey project's goals for their bakery bread machine buyers.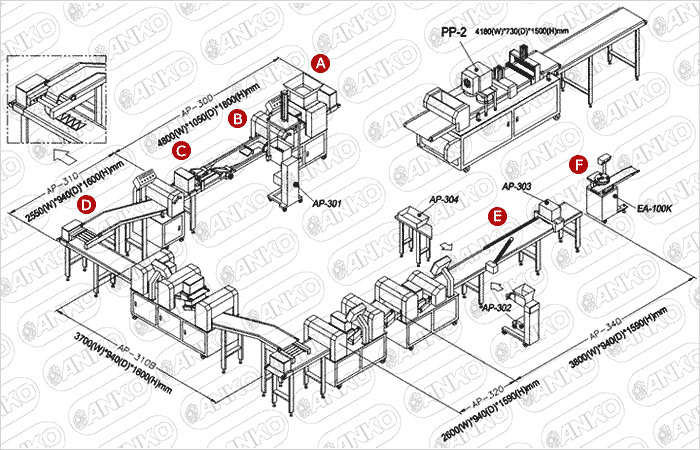 Bakery Bread, Puff Pastry Production Line, LP-3000M B akery Bread Machine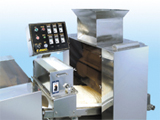 A). B
akery Bread Machine
Rolling Dough Sheet.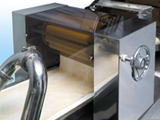 B). Place dough into the hopper. Special designed reverses rollers to sheet dough into a thin dough belt. The
bakery bread machine
does not need a dough sheeter, so it saves time, space and does not destroy the texture of dough.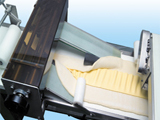 C). The margarine is extruded onto the dough belt. Through a special designed wrapping mechanism to wrap the margarine inside the dough sheet. The margarine will not leak out to destory the layers of pastry.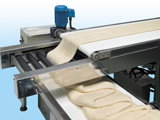 D). Expanding folding mechanism swings the dough belt with margarine inside onto the delivering conveyer to increase the layers of pastry.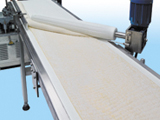 E). Rolling mechanism rolls up the dough belt into a dough bar by means of the speed difference between the special reollers and conveyor. The
bakery bread machine
can equip an extra stuffing extruder to roll up a stuffed dough cylinder.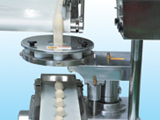 F). The plain or stuffed dough bar goes through the wrapping mechanism to be formed into dough balls. The both ends are closed to keep from the leak of stuffing and keep the layers.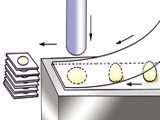 G). The press mechanism presses the finished products onto the conveyor. The bakery bread also can be stacked at a setting quantity, then delivered out by conveyer.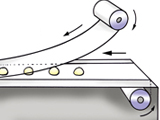 H). After resting, place the dough balls between the top and bottom films, then through a sensor, they will be delivered to the pressing location to be pressed into finished products.