Anko Food Machine Co., Ltd.
Cigar Roll processing machine supply
Food processing machine with quality design and customization
Food processing machines for spring roll pastry. spring roll. samosa. puff pastry. paratha. lacha paratha. green scallion pie. chapati/roti. pita bread. Chinese egg roll. Chinese hamburger (gua bao). crepe. bilini. Chinese egg pancake. peking duck wrapper. flour tortilla. burrito. piadine. Vietnamese spring roll. lumpia.
» Current Page: Cigar roll
ANKO's Cigar Roll processing machine designed to be efficient
Cigar Roll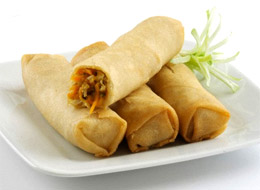 Located in Taiwan, ANKO is one of the prime food machine | industrial bakery equipment manufacturers since 1978. ANKO provides cost-effective food processing equipment line that is CE approved to meet safety requirements based on 40 Years of experience. Today, their food manufacturing equipment has sold to over 110 countries. Contact ANKO now to get the best deal!
Cigar roll is similar to spring roll, it is getting popular in Isreal, India, Japan, Morocco, China, USA and European countries. It is called cigar roll because its shape looks like a cigar. It is fried with vegetables wrapped in it including sliced carrots, eggs, onions, bean sprouts or whatever you feel like having. In southern Taiwan, the ingredients are generally boiled or blanched in plain water. Sometimes superfine white sugar is added along with the peanut powder before all the ingredients are wrapped. After it is wrapped, put them into hot oil and start frying them into golden brown color before serving.
ANKO is a food processing machine supplier, and their cigar roll (spring roll) machine can be customized to meet your requirements. Whether you are from Middle East or North America country, we can build you a cigar roll food processing machine that exceeds your expectations. For other similar type of food machines, you can also check out spring roll processing machine, Chinese egg roll food machine, Vietnamese spring roll food machine, lumpia processing machine.
Cigar Roll Production line - SRPF series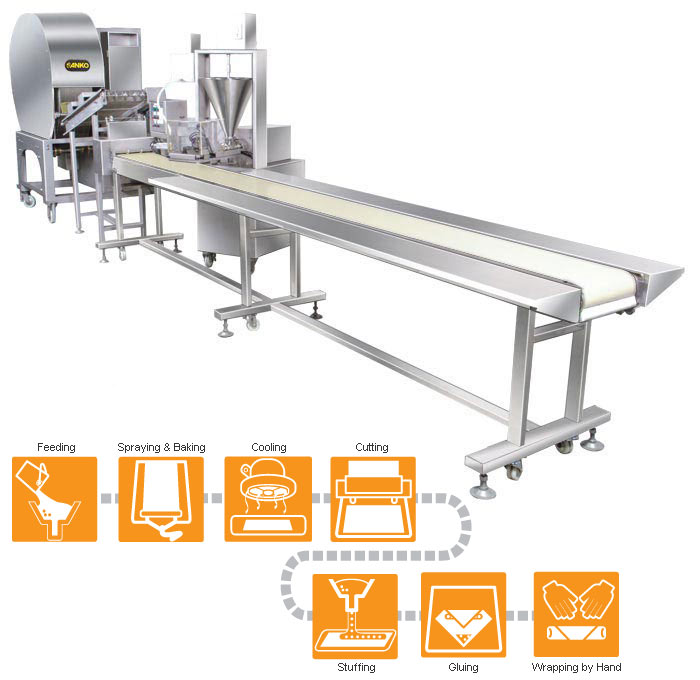 Specification of Cigar Roll Production line SRPF series
Model Number
SRPF-20A
SRPF-45A
Baking Machine
1500(L) x 1000(W) x 1650(H)mm
1800(L) x 1200(W) x 1900(H)mm
Stuffing Depositor
1200(L) x 700(W) x 1800(H)mm
Conveyor
1300(L) x 600(W) x 1250(H)mm
Conveyor of Cutter
4500(L) x 800(W) x 1100(H)mm
Power
20kw
37kw
20/380/415V,50/60Hz,3Phase(Special Power Can be Accommodated)
Specification of Products
Model Number
SRPF-20A
SRPF-45A
Max Pastry Width
220mm (Special Power Can be Accommodated)
Pastry Thickness
0.4~0.8mm
Weight of Product
30~80g
Capacity
| | |
| --- | --- |
| Model | Spring Roll |
| SRPF-20A | 900~1200 pcs/hr |
| SRPF-45A | 2400~2700 pcs/hr |
| SRPF-90 | 4800 pcs/hr |

Previous :
Lumpia