Anko Food Machine Co., Ltd.
Mammoul Machine and Equipment
Mammoul Processing Turnkey Project Provider - ANKO
Food and Bread Machine with 30 Years of Mammoul Equipment Experience
ANKO SD-97W food production for Mammoul Machinery and Equipment:
Current Page:
Mammoul Machine and Equipment
» Mammoul Machine and Equipment (SD-97W)
Professional Industrial Mammoul Production Line Supply | ANKO
40 years, 300 recipes, 30 food machines, a team of professional consultants for you to make smart Mammoul machine ordering decisions. ANKO, since 1978, owns 70% of food machine market in Taiwan and has sold their products to over 112 countries.
From single Mammoul processing equipment to production line design and manufacturing, ANKO's engineering team has always come up with innovative design to make sure your Mammoul business is profitable. The Mammoul equipment you receive from ANKO aims to be cost-effective, and the production capacity is high.
ANKO has been offering customers high-quality industrial Mammoul processing equipment, both with advanced technology and 40 years of experience, ANKO ensures each customer's demands are met.
View our quality products food machine, food processing equipment, food processing machinery manufacturers, industrial bakery equipment, bakery equipment manufacturers and feel free to
Contact Us
.
Automatic Encrusting And Forming Machine | ANKO
Mammoul Machine and Equipment (SD-97W)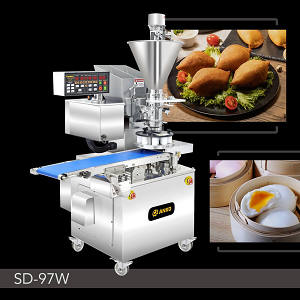 | | |
| --- | --- |
| Location | Taiwan |
| Brand Name | ANKO |
| Model Number | SD-97W |
Automatic Encrusting And Forming Machine uses a shutter mold to form two colors or solid color with filling interior food products by simply changing the forming mold and filling facilities.It can produce various food such as meat bun, coxinha, mammoul, meat pie, kubba, potato bread, rice cake, mochi, marzipan, croquette, crystal dumpling, moon cake, calzone, filled focaccia and cylinder shape products.

Features
Various Filling

Fillings can be bean paste, peanut, powder, minced meat, sesame paste.

5 programmable memories
Synchronize function
Steps start function
Dough and filling increase simultaneously
Conveyor speed control with timer function
Resettable counter display
Advantage
The price is reasonable.

The capacity is high.


It is easy for operation, cleaning,assembling, and repairing.

Special filling system can apply both wet anddry fillings.

Different materials can be applied for theencrusting product skin, such as :

Beef + bulgur => for Kubba/Kibbe

All purpose flour, high gluten flour, yeastdough => for different buns

Rice starch dough => for tangyuan, riceball, and mocha

Cookie dough => for cookies


Specially designed dough extruding device doesless damage to the dough texture, which gives better result to yourproduct.

It requires little space for operation, thesize of SD-97W is only

90X145cm

.
Specification
Height: 1780mm
Width: 960mm
Depth: 750mm
Electricity: 220V, 50/60Hz , SinglePhase, 1.08kw
Capacity: 2500~4200 pcs/hr
Weight of Product : 15~70g/pcs
Net Weight: 265kgs
Video for Mammoul Production (SD-97W)
Automatic Encrusting And Forming Machine for Mammoul Machine

More Food and Bread This Mammoul Machine Provided:
Arancini

Arepa

Barbecue Bun

Bean paste bun

Pistachio Mamoul

Biscotti
Biscuit 2

Bread

Bunuelos2

Crystal Dumpling 1

Chapati

Cha siu bao

Chin chin

Chocolate Crinkle

Ciastak Nadziewane

Coxinha

Croquetas5

Chao Zhou Dumpling

Fruitbars

Falafel

Filled Breads

Filled Bread

Filled Bread Stick

Filled Cookies

Filled Glutinous Rice Ball

Stripped Cookie

Fruitbars

Gulab Jamun

Iceboxcookie

kibbe

kubba round

Kluski Na Parze Steamed Dumpling

Kluski Slaskie Silensian Dumplings

Knedle Dumpling Filled With Fruits

Kubba

Kubba
Fried Kebab Balls

Maamoul

Maamoul

Ma'amoul

Ma'amoul

Ma'amoul

Mammoul

Meat Pie

Mochi 2

Moon Cake

Nane Khormay

Nastar

Pampuch

pan fried stuffed bun

Peckin Duck Wrapper

Peda2

Pineapple Cake

Pyzy

Puri

Rusgulla 1

Roti

Scallion Cake

Sesame Ball

Surimi

Taiwanese Meat Ball

Thepla

Tortilla

Vareniki

Zrazy

Next :
Meat Pie Machine and Equipment SD-97W

Previous :
Ma'amoul Machine and Equipment SD-97W