Anko Food Machine Co., Ltd.
Lacha paratha processing machine expert - ANKO
OEM/ODM Lacha Paratha making machine
Food making machines for spring roll pastry. spring roll. samosa. puff pastry. paratha. lacha paratha. green scallion pie. chapati/roti. pita bread. Chinese egg roll. Chinese hamburger (gua bao). crepe. bilini. Chinese egg pancake. peking duck wrapper. flour tortilla. burrito. piadine. Vietnamese spring roll. lumpia.
» Current Page: Lacha paratha
Eastern India Lacha Paratha processing machine for your market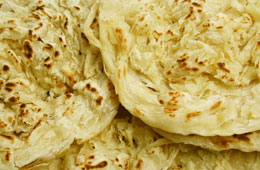 Located in Taiwan, ANKO is one of the prime food machine | industrial bakery equipment manufacturers since 1978. ANKO provides cost-effective food processing equipment line that is CE approved to meet safety requirements based on 40 Years of experience. Today, their food manufacturing equipment has sold to over 110 countries. Contact ANKO now to get the best deal!
Lacha paratha
Lacha paratha is a kind of paratha with multiple layers. It is popular in Eastern India . The paratha is from Punjabi in origin.

Next :
Paratha

Previous :
Puff pastry