Pocket Sandwich – A New Sandwich Idea
ANKO is a leading Taiwanese company that has been selling food processing machines for more than 40 Years, and their seasonal experience on building pocket sandwich processing machines has allowed them to customize every pocket sandwich machine in order to create dynamic shapes and flavors of pocket sandwich. Every pocket sandwich machine customer is satisfied with their purchase, and the main reason is because the sandwich processing machine is beneficial to their business. Therefore, ANKO's customers never just buy one sandwich machine and leave..
In the convenience stores of Japan's extensive rapid transit and train stations, there's a new food trend that is growing big and fast. It is a new sandwich idea named 'pocket sandwich', also called Lunch Pack by the Japanese. Pocket Sandwich is basically an average hand size sealed sandwich with a square or round shape. Fillings are sealed inside without making a mess while eating it; nothing can leak out and no crumbs fall out.
Pocket Sandwich's concept is to deliver a fast and easy food selection for people who wish to have a quick and enjoyable meal. It was created by Yamazaki Baking Co., Ltd, a company that has been making bread for more than half a century. Yamazaki establishes more than 1,000 new bread products every year, and pocket sandwich is one of the successful inventions. Successful business comes from relentless creativity; Yamazaki continues to attract eater's attention by continually coming up with new and interesting combos. For salty sandwich pockets, there are pork cutlet with egg, chicken with egg, beef with tomato and basil, fried rice with sweet tofu, salmon with mayo and alfalfa, tuna with mayo and alfalfa, Satsuma-age with cheese, kinpira with cheese, ham with mayo, egg with salad, shrimp with egg, etc. For sweet sandwich pockets, there are omelets with avocado or salami, peanut butter with jelly, chocolate with butter, strawberry with cream, etc.
The unique pocket sandwich idea has brought a diverse fast food scene to the sandwich market, and its great popularity has spread all over Asia including Hong Kong, South Korea, Taiwan and China. They are sold in every convenience store including Family Mart and 7-11, and come with various fillings. Therefore, food processing machine manufacturers have been designing sandwich processing machines to meet market requirements and eventually developing pocket sandwich production lines with total solutions.

Check out ANKO's pocket sandwich processing machine »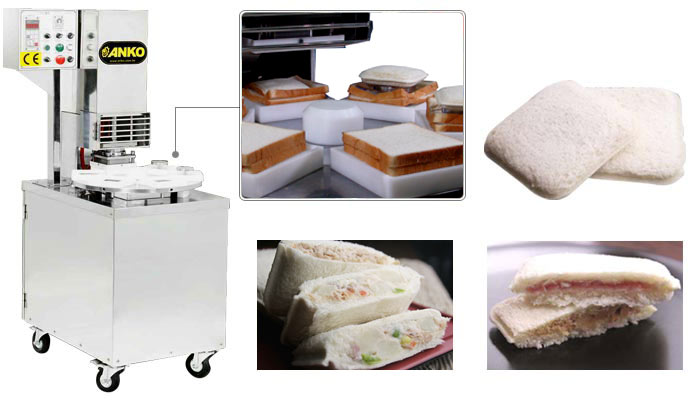 Chinese Hamburger (Gua Bao) – A New Hamburger Idea
Chinese hamburger (gua bao)
Long before Westerners started eating burgers, Gua Bao had already been around for a long time. Gua Bao is also called Chinese hamburger, pork bun, Taiwanese hamburger, Baohaus, or Pork Belly Bun, and it is basically a Chinese take on the hamburger. It looks similar to the hamburgers people eat these days, but actually the ingredients are quite different. Instead of pickles, lettuce and ground beef, Gua Bao is made up of stewed pork belly, roasted crushed peanuts, pickled mustard greens, cilantro and a steamed bun. Gua Bao's bun is shaped into clamshell and steamed instead of being baked like a burger's.
In U.S. cities, Chinese food can be easily found downtown, though before you often had to go to China Town to get it. New Yorkers are open-minded to new interpretations of food, and they are also looking for a dish that is healthier and less greasy. Gua Bao is a new trend in New York's downtown. The stewed meat is cooked for hours, so it tastes ridiculously tender. In addition, it is also less fatty and healthier than a regular burger. According to legend, pork belly is said to have been one of Mao Zedong's favorite foods. Therefore, Gua Bao's pork bun is also sometimes called the 'Chairman Bao'.

Check out ANKO's Chinese hamburger making machine »

A Pocket Sandwich / Gua Bao Processing Machine Manufacturer - ANKO
ANKO provides cost-effective food processing equipment line that is CE approved to meet safety requirements, as well as ISO9001 certification. ANKO's food processing production line has sold to over 112 countries. Contact ANKO today to make smart purchasing decisions.

More about ANKO
Sandwich Processing Machine – TS-1500
White bread slices placed on conveyers of the sandwich processing machine and delivered into metal plates. Once the slices are set on the metal plates, square shape metal cutters reach the bread, cut them into the required shape and remove the crust.