Anko Food Machine Co., Ltd.
Ube Pão Roa Machine and Equipment
Ube Pão Roa Processing Turnkey Project Provider - ANKO
Máquina de alimentos e Pão com 30 anos de experiência em equipamentos de Pão Ube Roa
ANKO SB-880 produção de alimentos para Rolo de Frango , rolo beff, máquina de pão:
Página atual:
Ube Pão Roa Machine and Equipment
»Ube Pão Roa Machines and Equipments
Linha de Produção Multi-Função Automática para Folheamento, Enchimento, Laminagem e Formação | ANKO Ube Pão Roa Equipment
Ube Pão Roa Machine and Equipment (SB-880)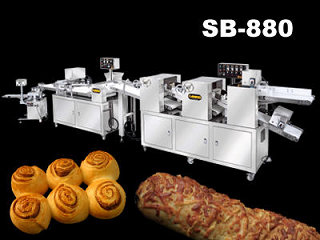 | | |
| --- | --- |
| Localização | Taiwan |
| Marca | ANKO |
| Número do modelo | SB-880 |
Pão francês, pães cheios, pãezinhos, pães de carne, pães de vegetais, pãezinhos de feijão vermelho, pequenos pães cozidos no vapor, pãezinhos em fatias, pães de coelho, pãezinhos de vapor roscados e muito mais.

Características
Pressionando massa -> Folhas -> Dividindo -> Enchimento -> Formando automaticamente
Grande variedade de produtos

O molde é fácil de mudar. A máquina pode ser equipada com uma tremonha de enchimento especial para manter a textura do vegetal no enchimento. A função de formação de rolamento não irá destruir a textura da massa, de modo que os produtos alimentares acabados sejam iguais aos fabricados à mão.

Design Avançado e Sanitário

A máquina é fácil de montar, limpar e manter. Todas as peças de contato com alimentos são feitas de aço inoxidável padrão de alimentos.

Fácil de operar, economizar tempo e trabalho

O operador não precisa de experiência, a produção é rápida. A espessura do invólucro de massa, a quantidade de enchimento e o tamanho do produto acabado são ajustáveis.
Dimensões e Aplicação
SB-880 ( Linha de Produção Multi-Função Automática para Folheamento, Enchimento, Laminagem e Formação )
Tamanho: 8500 (L) x 1700 (W) x 1580 (H) mm
Eletricidade: 220/380/415 V, 50/60 Hz, 3 Fases, 4,5 kw
Capacidade: 80 - 4000 pcs / h (dependendo do peso do produto)
Peso do Produto: 15 - 150 g (Forma Redonda); 15 - 600 g (Forma do cilindro)
Peso líquido: 1150 kgs
=======================================
EA-100R (MÁQUINA DE FORMAÇÃO DE OBTURADOR)
Tamanho: 1,060 (L) x 570 (W) x 1,160 (H) mm
Eletricidade: 220 V, 50/60 Hz, monofásico, 0,5 kw
Capacidade: 3.200 pcs / hr (com função de elevação do transportador)
Capacidade: 6.000 pcs / hr (função de elevação do transportador sem contato)
Peso do produto: 15 - 150 g (Forma redonda)
Vídeo para Ube Pão Roa Production (SB-880)
Linha de Produção Multi-Função Automática para Folheamento, Enchimento, Laminagem e Formação Máquina Roa de Pão Ube

Mais comida e Pão Esta máquina Roa de Pão Ube forneceu:

Bolo de feijão

Rolo de Carne Bovina

Pão
Rolinho de Queijo

Rolo de Frango
Hamburguer Chinês

Ciastak Nadziewane

Dimsum

Pães cheios

Pão cheio

Pão cheio

Pão cheio

Gua Bao

Flaky Hopia

Kolompe Khormayi

Pão de Carne

Nane Khormay

Bolinho descascado pan frito

Tortas Pequenas

Pão à Vapor

Bolo de vapor

Pão Recheado

Pão de Rosca à Vapor

Tsoureki
Fonte de dados
http: // www. anko .com.tw / pt / product / sb-880.html