Not just a food machine supplier. Also a total solution designer –
ANKO FOOD MACHINE CO., LTD.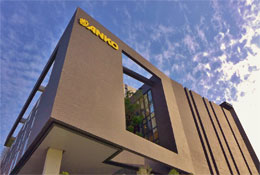 "For the last 15 years, I've been buying food machines from ANKO, from one dumpling making machine at the beginning, in the end a food production line with the expansion. Because ANKO sells food making equipment worldwide, I can always get different food ideas from them. Now they are more like my business consultant rather than just a supplier. Last week, I visited ANKO's new office building when I needed to buy a siomai making equipment. I was amazed with the design and their determination to be the best." said Mr. Cai from HOA NAM TRAITEUR EN GROS & DEMI GROS in France.
Big investment. Big change
The plant has cost ANKO 20 million USD and 5 years to build it. It is 107,000 square feet and surrounded by trees and mountains. There are two buildings, one has 4 floors, which contains an inventory, production lines (welding, mold making, CNC 5 Axis Mill working areas) and a food machine production line demonstration room. The other building consists of a welcome lobby, meeting rooms, single food machine testing room, offices for engineers, sales, financial, RD team and audio-visual center.
Based on the floor design, you can tell ANKO is dedicated in developing innovative food machines in order to expand their market in food industry.
At Anko's lobby, there's a digital signage with visitor's name and country's flag are shown to establish your warm welcome
As soon as I arrived, I could see my name and French flag shown on the screen to welcome me. After I entered, the front desk staff led me to a meeting room, again, my name was shown on the screen at the door. "That made me feel really welcomed.", says Mr. Cai. Richard OuYang, the general manager of ANKO, showed up, we had a short smooth meeting since we had been emailing each other. Later, I was introduced to the 2nd floor to test the food making equipment.
Most of other plants I visited are a bit messy, machine testing and food machine manufacturing are at the same area and wires are disorganized. ANKO's new plant, each room is big and designed with wide-open ceiling and electricity wire is hidden to create a clean and pleasant work environment, I was amazed.
ANKO provides a workplace which is big and bright for employees to work comfortably and safe
Creative food machine design to bring you to the world
Machine testing rooms are separated into two sections, single machine and production line. In the room, beside food making equipment, there are dynamic molds displayed on the table. Richard told me that they sell over 900 molds every year including molds of numbers, animal shapes, and sizes and resent trendy shapes.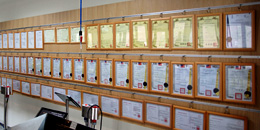 With the worldwide patent obtaining, ANKO's food machine is guaranteed
ANKO has been obtaining patents relentlessly; in the room, you can see collected patents hanging on the wall from all over the world including Russia, China, Middle East, the U.S., European countries, etc.
The details of food ingredients, cooking steps and methods, temperature variations, texture of foods, food machine selections, the detail of every process, they are all written in a booklet and provided after the whole visit is over.
It's not just a show room, it's a factory. We design and manufacture here. We act as a food processing equipment designer, a manufacturer, a consultant and a business partner by providing clients long-term services, from one food making equipment to production lines with total solutions.
-- says Richard.
While walking through the hall way, you can see light box signage with all kinds of foods and machines from different regions. There is tortilla from Mexico, siomai from China, samosa and paratha from India, Maamoul and Kibbeh from Gulf and Middle-Eastern countries. It inspired me. Even though I've been selling foods for years, I am always looking for new aspiration for my business.
The kitchen is where clients bring their food to cook before or after they try out food machines. In the room, there are cutting machines, skin peeling machines, stir machines, ovens, steam machines for deep frying, steaming, boiling, etc. It's a one-stop shopping service; rather than food making machines, buyers can also buy other cooking equipment to go with.
On the 2nd floor, clients can either bring their own ingredients or use the ingredients provided by ANKO, before or after food machine testing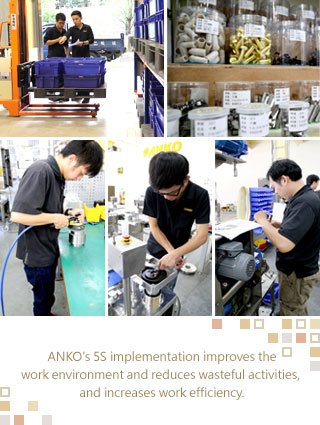 While touring around other areas, Richard told me about their plans, they are going to:
Tripling food machine production capability;
Increasing total employees from 60 to 150 people;
Gaining RD team membership up to 35 people;
Applying Japanese 5S system (already starting);
Buying a CNC 5 Axis Mill;
Continuing to possess patents worldwide;
Purchasing and inventory teams added.
ANKO's green work environment
Outside of the building, you can see an 80 years old and five-story-high tree growing with prosperity. In the office, you can see dynamic colors of office furniture representing each department; office chairs, bars, restaurants and resting areas are located of every corner in the building. All of the facilities are there to make sure ANKO's employees deliver great performances after resting.
From ANKO's water collecting and reuse system, green building design, office lighting solutions and plenty of green plants, you can tell that ANKO is dedicated in building an environmentally friendly workplace.
"It is a great place to work! We want to be a place to bring smart and talented people here and in the end to carry out effective work performance.", said Robert OuYang, president of ANKO.
I hope next time when I come back, ANKO has already transformed and become a food machine supplier with all the goals achieved.
ANKO's green work environment - green building, our responsibility to globe