Anko Food Machine Co., Ltd.
Tortellini Machine and Equipment
Tortellini Processing Turnkey Project Provider - ANKO
Food and Bread Machine with 30 Years of Tortellini Equipment Experience
ANKO HLT-700XL food production for Tortellini Machinery and Equipment:
Current Page:
Tortellini Machine and Equipment
» Tortellini Machine and Equipment (HLT-700XL)
Professional Industrial Tortellini Production Line Supply | ANKO
40 years, 300 recipes, 30 food machines, a team of professional consultants for you to make smart Tortellini machine ordering decisions. ANKO, since 1978, owns 70% of food machine market in Taiwan and has sold their products to over 112 countries.
From single Tortellini processing equipment to production line design and manufacturing, ANKO's engineering team has always come up with innovative design to make sure your Tortellini business is profitable. The Tortellini equipment you receive from ANKO aims to be cost-effective, and the production capacity is high.
ANKO has been offering customers high-quality industrial Tortellini processing equipment, both with advanced technology and 40 years of experience, ANKO ensures each customer's demands are met.
View our quality products food machine, food processing equipment, food processing machinery manufacturers, industrial bakery equipment, bakery equipment manufacturers and feel free to
Contact Us
.
Multipurpose Filling & Forming Machine | ANKO
Tortellini Machine and Equipment (HLT-700XL)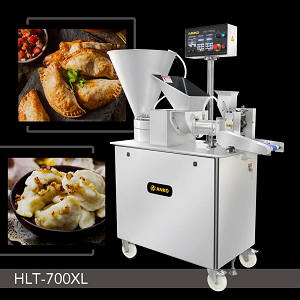 | | |
| --- | --- |
| Location | Taiwan |
| Brand Name | ANKO |
| Model Number | HLT-700XL |
HLT-700XL is a kind of dumpling making machine made by ANKO. It has four independent motors to produce a wide range of food products with a dough wrapper and stuffing inside. By simply changing the forming molds, it can produce a variety food, such as dumpling, hargao, samosa, ravioli, pasta, pierogi, pelmeni, calzone, empanada etc.

Features
Wide range of dough compositions

The broad range of dough composition allow for different dough textures. Water content in dough varies form 30% to 50%, and could be cold, warm or hot to make wrappers tender after boiling or steaming. Shortening content in dough can be up to 20% to make wrappers that will be crispy after baking or frying.

Unique Hargao forming device

Equipped with special forming device, our HLT-700XL could also produce Hargao fully automatically.

All kinds of cube, dice filling: meat, cheese , shrimp,etc
Optional Special equipment for hargao and full dimension products
Dimensions and Application
Size: 1150 (L) x 570 (W) x 1700 (H) mm
Electricity: 220/380/415 V, 50/60 Hz, Single/3 Phase, 4.0 kw
Stuffing Hopper Capacity: 35 L
Weight of Product: 2 - 200 g
Net Weight: 450 kgs
Advantage
Specification
| Products | Capacity (pcs/hr) | Products | Capacity (pcs/hr) |
| --- | --- | --- | --- |
| Dumpling | 3000-30,000 | Pot sticker | 7,000-8,400 |
| Noodle | 420 kgs/hr | Egg rolls / Apple pies | 3,500-6,000 |
| Samosa | 7,000-12,000 | Raviolis | 9,000-16,000 |
| Crystal Dumpling | 10,500 | Curry Puff / Empanadas | 6,300 |
Forming Mold List

Weight

Length

Width

Shape

Capacity(pcs/hr)

2~80g

15~125mm

10~50mm

Half Moom

3000~30000

15~100g

60~120mm

50~85mm

Triangle

3000~15000

200g

200mm

100mm

Half Moon

1800

12~75g

30~125mm

30,45mm

Rectangular

3000~15000

25g

45~55mm

30~35mm

Irregular

2000

Customization

Round

5000~15000

12,16g

45,60g

45,50g

Square

5000~15000

Customization

Animal Shape

According to Product Size
Video for Tortellini Production (HLT-700XL)
Multipurpose Filling & Forming Machine for Tortellini Machine

More Food and Bread This Tortellini Machine Provided:

eggroll

Calzone

Calzone

Calzone

Calzone

Cannelloni

Cheese Samosa

Crystal Dumpling

Crystal Dumpling 1

Curry Puff

Dumpling

Dimsum

Egg Roll

Empanada

Esfiha

Fried Leek Dumpling

Gnocchi

Hotpocket

Khinkaly

Kreplach

Letter Pasta

Manty

mandu

Mini Juicy Bun

Mini Juicy Bun

Number Pasta

Pasta

Pasta

Pasta

Pasta

Pasta

Pasta

Pasta

Pasta

Pasta

Pasta

Pasta

Pasta

Pasta

Pasta

Pasta

Pasta

Pelmeni

Pierogi

Pierog Szpin

Pizzaroll

Pizza Samosa

Polish Pierogi

Potsticker

Potsticker

Ravioli

Ravioli R

Ricedumpling

Rigatoni

Samosa

Tamale

Tortellini

Uszka

Vareniki

Next :
Uszka Machine and Equipment HLT-700XL

Previous :
Tamale Machine and Equipment HLT-700XL