Anko Food Machine Co., Ltd.
Quality Peking duck wrapper processing machine supplier
Food machine design and customization
Food processing machines for spring roll pastry. spring roll. samosa. puff pastry. paratha. lacha paratha. green scallion pie. chapati/roti. pita bread. Chinese egg roll. Chinese hamburger (gua bao). crepe. bilini. Chinese egg pancake. peking duck wrapper. flour tortilla. burrito. piadine. Vietnamese spring roll. lumpia.
» Current page: Quality Peking duck wrapper processing machine supplier
Semi-automatic Peking Duck Wrapper Production Line
Peking duck wrapper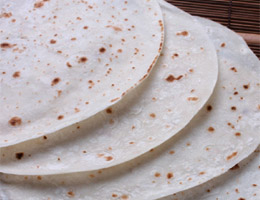 Roast duck originated in Ming Dynasty, and was brought to Beijing after Ming Dynasty settled its capital city there. By the Qianlong Period (1736-17960) of the Qing Dynasty, the popularity of roast duck spread to the upper classes, and the name of Peking Dick is also call"lotus leag pancake", which is hand rolled round thin pastry made of cooked dough, served after steaming or pan frying. It is said that the authentic way to taste Peking Duck, wrap thin sliced duck meat with lotus leaf pancake, had been inherited for more than 300 years.
Semi-automatic dumpling wrapper and Pecking duck wrapper making machine PDW-180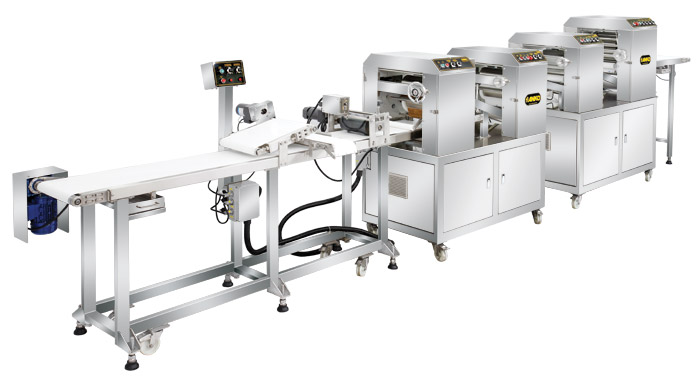 Specification of Semi-automatic dumpling wrapper and Pecking duck wrapper making machine
| | |
| --- | --- |
| Model No. | PDW-180 |
| Length | 6800mm |
| Width | 700mm |
| Height | 1640mm |
| Electricity | 220/380/415V, 50/60Hz, Single /3 Phase |
| Machine Weight | 1000kgs |
| Pastry Thickness | 0.6-1.5mm |
| Product Weight | 30-75g |
| Capacity | 1500-2400 pcs/hr |