Anko Food Machine Co., Ltd.
Spring Roll Processing Machine Manufacturer - ANKO
Chinese Cuisine Food Processing Machine
Food making machines for spring roll pastry. spring roll. samosa. puff pastry. paratha. lacha paratha. green scallion pie. chapati/roti. pita bread. Chinese egg roll. crepe. bilini. Chinese egg pancake. peking duck wrapper. flour tortilla. burrito. piadine. Vietnamese spring roll. lumpia.
» Current page: Spring Roll Processing Machine Manufacturer - ANKO
Spring Roll Processing Machine Built By ANKO – A Food Processing Machine Expert
Spring roll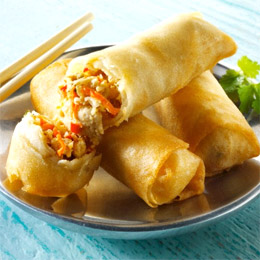 Spring roll is a kind of Chinese cuisine. Now, it is popular in South-Eastern Asia and China Towns around the world. It's said that once there was a student who wanted to pass the notional exam and he studied all day long and forgot to eat and sleep. His wife came up an idea of grinding rice into powder, and then made it into wrapper. Then, she use the wrapper to roll fillings into tube shape. This food succeeded in arousing her husband's appetite. Gradually, it become more and more popular in China especially in Southern provinces. After Tang and Song dynasty, there is a custom that people eat spring roll in the beginning of spring. Some famous poets wrote many poetry about spring roll. Now, the spring roll is made from flour instead of rice powder.
SRPF series - Semi-automatic spring roll production line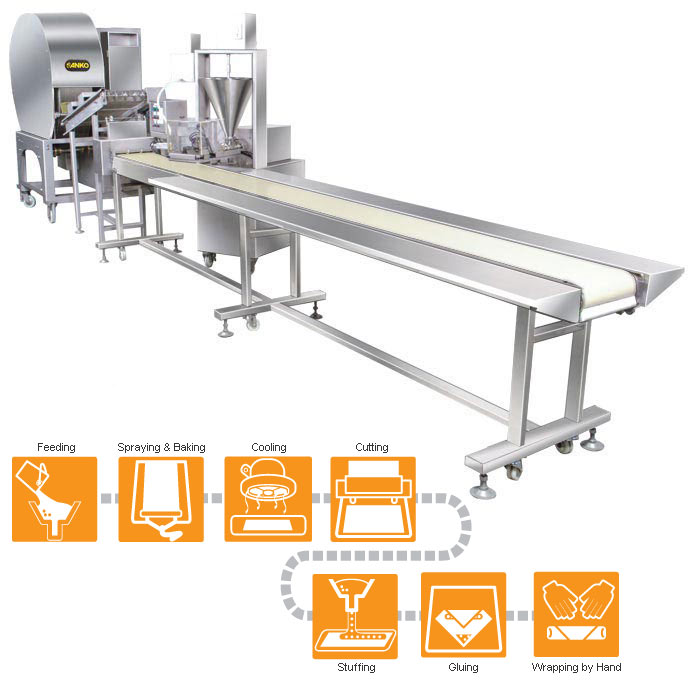 Specification of SRPF series
Model Number
SRPF-20A
SRPF-45A
Baking Machine
1500(L) x 1000(W) x 1650(H)mm
1800(L) x 1200(W) x 1900(H)mm
Stuffing Depositor
1200(L) x 700(W) x 1800(H)mm
Conveyor
1300(L) x 600(W) x 1250(H)mm
Conveyor of Cutter
4500(L) x 800(W) x 1100(H)mm
Power
20kw
37kw
20/380/415V,50/60Hz,3Phase(Special Power Can be Accommodated)
Specification of Products
Model Number
SRPF-20A
SRPF-45A
Max Pastry Width
220mm (Special Power Can be Accommodated)
Pastry Thickness
0.4~0.8mm
Weight of Product
30~80g
Capacity
| | |
| --- | --- |
| Model | Spring Roll |
| SRPF-20A | 900~1200 pcs/hr |
| SRPF-45A | 2400~2700 pcs/hr |
| SRPF-90 | 4800 pcs/hr |