Anko Food Machine Co., Ltd.
Chocolate Machine and Equipment
Chocolate Processing Turnkey Project Provider - ANKO
Food and Bread Machine with 30 Years of Chocolate Equipment Experience
ANKO WH-180 food production for:

Pagina atual:
ChocolateMáquina e equipamento
» ChocolateMáquina e equipamento (WH-180)
Máquina para Cobertura e Molde de Chocolate| Equipamento ANKO Arancini
ChocolateMáquina e equipamento(WH-180)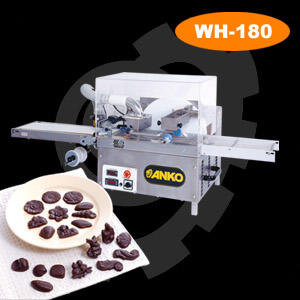 | | |
| --- | --- |
| Localização | Taiwan |
| Marca | ANKO |
| Número do modelo | WH-180 |

Características
Função de mistura contínua para evitar que o Chocolate seja queimado ou degenerado.
O dispositivo de descarga é conveniente para limpeza.
Disponível para qualquer forma de produtos como pedaços e vários biscoitos, mini Pão , etc.
Equipado com um dispositivo vibratório de alta freqüência para fazer várias formas de Chocolate , como animais, conchas, flores, formas, etc.
Dimensões e Aplicação
| Modelo | WH-180B | WH-1802 | WH-1804 |
| --- | --- | --- | --- |
| Tamanho da máquina | 1500 (L) x 630 (W) x 1330 (H) mm | 3000 (L) x 630 (W) x 1330 (H) mm | 4990 (L) x 630 (W) x 1330 (H) mm |
| Eletricidade | 220 V, 50/60 Hz, monofásico, 1,3 kw | 220 V, 50/60 Hz, Monofásico, 2,05 kw | 220 V, 50/60 Hz, monofásico, 2,8 kw |
| Transportador de resfriamento | - | 2M | 4M |
Mais comida e pão issoChocolateMáquina fornecida:

Chocolate
Fonte de dados
https://www.anko.com.tw/en/product/.html

Next :
BiscoitosMáquina e equipamento CD-402-Slicer

Previous :
Arroz FritoMáquina e equipamento STRFR