Anko Food Machine Co., Ltd.
Steamed Sandwish Machine and Equipment
Steamed Sandwish Processing Turnkey Project Provider - ANKO
Food and ハン Machine with 30 Years of Steamed Sandwish Equipment Experience
ANKO SB-880 food production for chicken roll, beff roll, bun machine:
Current page:
Steamed Sandwish Machine and Equipment
 » Steamed Sandwish Machines and Equipments
多功能全自動包餡成型機 | ANKO Steamed Sandwish Equipment
Steamed Sandwish Machine and Equipment (SB-880)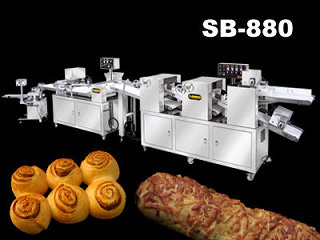 | | |
| --- | --- |
| Location | Taiwan |
| Brand Name | ANKO |
| Model Number | SB-880 |
French ハン, エンパナター 餡パン, buns, meat buns, vegetable buns, red bean buns, small steamed buns, sliced rolls, rabbit buns, threaded steam buns and more.

Features
Pressing dough -> Sheeting -> Dividing -> Filling -> Forming automatically
Wide variety of Products

Mold is easy to change. Machine can be equipped with a special stuffing hopper to keep the texture of vegetable in stuffing. The rolling forming function will not destroy the texture of dough, so that the finished food products are the same as hand-made.

Advanced Design and Sanitary

Machine is easy to assemble, clean and maintain. All parts contact with food are made of food standard stainless steel.

Easy to Operate, Save Time and Labor

Operator needs no experience, production is rapid. The thickness of dough wrapper, quantity of stuffing and size of finished product are adjustable.
Dimensions and Application
SB-880 (多功能全自動包餡成型機)
Size: 8500 (L) x 1700 (W) x 1580 (H) mm
Electricity: 220/380/415 V, 50/60 Hz, 3 Phase, 4.5 kw
Capacity: 80 - 4000 pcs/hr (Depend On Weight of Product)
Weight of Product: 15 - 150 g (Round Shape) ; 15 - 600g (Cylinder Shape)
Net Weight: 1150 kgs
=======================================
EA-100R ( SHUTTER FORMING MACHINE )
Size: 1,060 (L) x 570 (W) x 1,160 (H) mm
Electricity: 220 V, 50/60 Hz, Single Phase, 0.5 kw
Capacity: 3,200 pcs/hr (With conveyor lifting function)
Capacity: 6,000 pcs/hr (W/o conveyor lifting function)
Weight of Product: 15 - 150 g (Round Shape)
Video for Steamed Sandwish Production (SB-880)
多功能全自動包餡成型機 for Steamed Sandwish Machine

More Food and ハン This Steamed Sandwish Machine Provided:

Bean paste bun

Beef Roll

ハン
Cheese Roll

Chicken Roll
Chinese Hamburger

Ciastak Nadziewane

Dimsum

エンパナター 餡パン

Filled ハン

Filled ハン

Filled ハン Stick

Gua Bao

Flaky Hopia

Kolompe Khormayi

Meat Bun

Nane Khormay

pan fried stuffed bun

Pocket Pie

蒸しまん

steam bun

パン餡入り

Threaded Steam Bun

Tsoureki S

Ube ハン Roa
Data Source
http://www.anko.com.tw/en/product/sb-880.html

Next :
Contact a Food and ハン Processing Turnkey Project Master - ANKO

Previous :
Food and ハン Processing Turnkey Project Provider - ANKO