Anko Voedsel Machine Co, Ltd.
Andere apparatuur machine-en apparatenbouw
Andere apparatuur Processing Turnkey Project Provider - ANKO
Eten en Brood Machine met 30 Years of andere apparatuur Equipment Experience
ANKO SF-1 voedselproductie voor:

Huidige pagina:
Openpizza machine-en apparatenbouw
»Andere apparatuur Machines en Uitrustingen
Wok (tafel type) | ANKO andere apparatuur apparatuur
Andere apparatuur machine-en apparatenbouw (SF-1)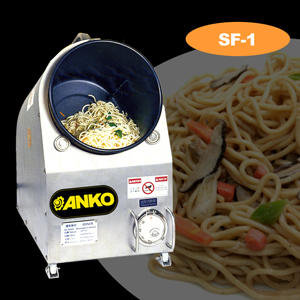 | | |
| --- | --- |
| Plaats | Taiwan |
| Merknaam | ANKO |
| Modelnummer | SF-1 |

Kenmerken
mutiple Usage

Voor bakken, kruiden, mengen of bakken rijst, noedels, vermicelli, groente, sesam, pinda's, vlees, in blokjes gesneden en geraspte vlees, koffie, erwt, suiker coating, snoep, koekjes, pistache, kruiden etc.

Elektronische controle, traploze snelheidsregeling, draait zowel met de klok mee en tegen de klok
Temperatuur instelbaar
Speciale interne kaapstander vat, voedsel, zoals noodle of spaghetti zal niet worden gebroken
De externe behuizing is gemaakt van speciaal graad van warmte-isolator die warmte binnen kon houden tot 33% van het gas op te slaan.
Gemakkelijk laden en sischarging. Met de tijd setting, eenvoudig te bedienen.
Video voor andere apparatuur Production (SF-1)
Wok (tafel type) voor andere apparatuur Machine

Meer Eten en Brood Dit Andere apparatuur Machine op voorwaarde dat:

Gebakken rijst / nasi
Databron
http: // www. anko .com.tw / nl / product / sf-1.html