Anko Voedsel Machine Co, Ltd.
Pitabroodje machine productie
Functioneel, productieve Pita Brood Machine
Voedselverwerkende machines voor loempiavellen . Loempia . samosa. bladerdeeg. paratha. Lacha paratha. chinees pannenkoek met lente uitjes . Chapati / Roti . Pitabroodje . Chinese Ei-rol . Chinese Hamburger (gua bao). Crêpe . bilini. Chinese ei pannenkoek. peking eend wrapper. meel Tortilla . Burrito . piadine. Vietnamese loempia's . loempia.
»Huidige pagina: Pitabroodje machine productie
Pita Brood Machine vervaardigd met totaaloplossingen
Pitabroodje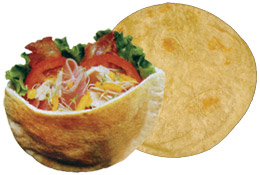 Pitabroodje is een soort ronde zak Brood licht gezuurd en kan worden gevuld met verschillende voedingsmiddelen. Het is populair in het Midden-Oosten en de Middellandse Zee en Noord-Afrika keukens, de zogenaamde pita, pitta of khubz. Pitabroodje is afkomstig uit Arabische schiereiland. Het wordt door historici beschouwd als een van de oudste brood. Een Arabische kookboek vonden het in de 10e eeuw.
Pitabroodje wordt gebakken in een stevige oven. Het is een beetje gezuurd tarwe Brood , platte, ronde of ovale en aviralbe in grootte. De tiende-centery Abrey kookboek, Kitab al-Tabikh door ibn Sayyar al-Warraq, includs zes recepten voor khubz, allemaal gebakken in een tannur, dat is net als de moderne tandoori-oven, in zijn hoofdstuk 13, historici geloven haar geschiedenis zich uitstrekt tot ver in oudheid aangezien platbrood in het algemeen, al dan niet gerezen, behoren tot de oudste brood hoeft geen oven of utesil hun bakken. Het eerste bewijs van platte broden optreden in en rond Amoriet Damascus.
Pitabroodje poduction lijn PT-5000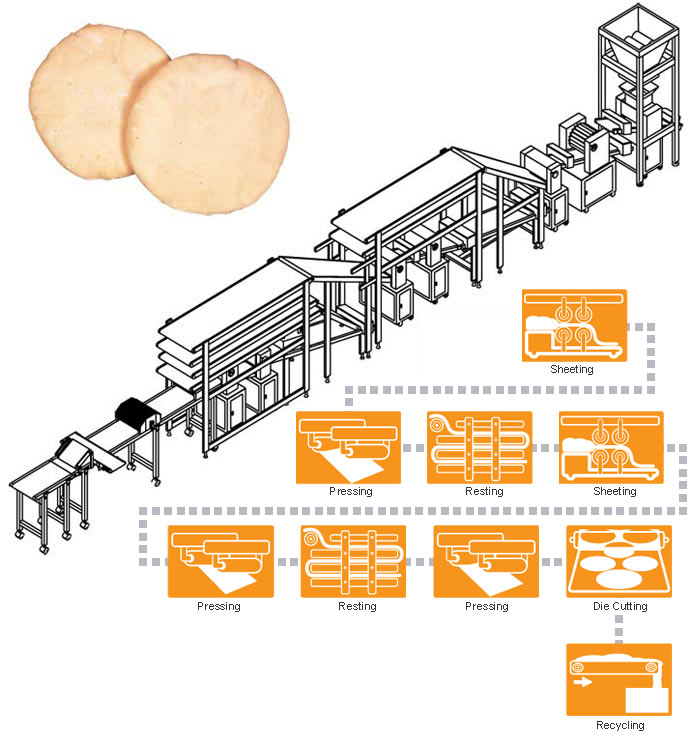 Pitabroodje poduction lijn PT-5000
Specificatie van Pitabroodje poduction lijn PT-5000
| | |
| --- | --- |
| Modelnr. | PT-5000 |
| Lengte | 12500mm |
| Breedte | 1000mm |
| Hoogte | 2600mm |
| Elektriciteit | 220/380 / 415V, 50 / 60Hz, 3Phase, 18.75kw |
| Capaciteit | 6000 stuks / uur (Base op Dia.24cm) |
| productgewicht | 70 ~ 115g |
| Gebak Diameter | 18, 20, 24, 28, 30cm |
| Dikte van Pastry | 1-3mm |
| Breedte van deegvel | 850mm |