Anko Food Machine Co., Ltd.
Green scallion pie processing machine supplier - ANKO
Food processing machine expert for 33 years
Food making machines for spring roll pastry. spring roll. samosa. puff pastry. paratha. lacha paratha. green scallion pie. chapati/roti. pita bread. Chinese egg roll. Chinese hamburger (gua bao). crepe. bilini. Chinese egg pancake. peking duck wrapper. flour tortilla. burrito. piadine. Vietnamese spring roll. lumpia.
» Current page: Green scallion pie processing machine supplier - ANKO
Green scallion pie making machine for your food business
Green scallion pie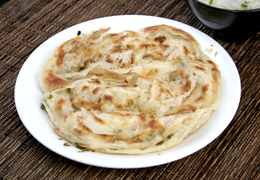 Green scallion pie originated from China, Shandong and was called You xuan. During a travel, a business man was served You xuan by his friend in Shandong. Then, he brought such a delicious food to Taiwan and called it as green scallion pie.
Green onion pie is a savoury, non-leavened flatbread folded with oil and minced scallions (green onions). It originates in Chinese culture. Unlike a true pancake, it is made from dough instead of batter. Variations exist on the basic method of preparation that incorporates other flavors and fillings.
Green onion pies are available in China, Taiwan, and other areas of the world with ethnic Chinese populations, in restaurants and as a street food item, and is also commercially available packaged fresh or frozen solid in plastic packages (often in Asian supermarkets).
Lacha paratha & green scallion pie production line LAP-2200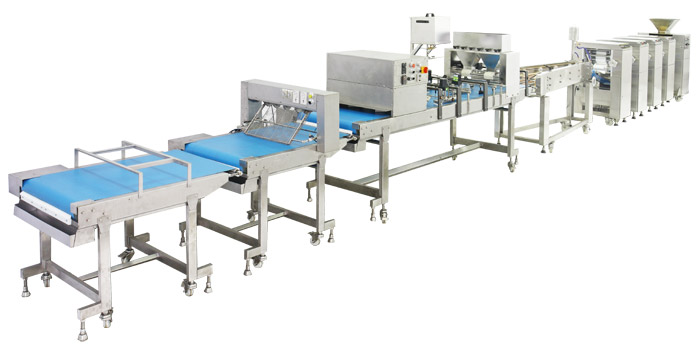 Specification of Lacha paratha & green scallion pie production line LAP-2200
| | |
| --- | --- |
| Length | 13500mm |
| Width | 800mm |
| Height | 1640mm |
| Electricity | 220/380/415V, 50/60Hz, 3Phase |
| Product Weight | 100~150kgs |
| Capacity | 1200~2200 pcs/hr |
| Machine Weight | 3200kgs |