Anko Voedsel Machine Co, Ltd.
Paratha machine expert - ANKO
OEM / ODM Paratha making machine productie
Eten maken van machines voor loempiavellen . Loempia . samosa. bladerdeeg. paratha. Lacha paratha. chinees pannenkoek met lente uitjes . Chapati / Roti . Pitabroodje . Chinese Ei-rol . Chinese Hamburger (gua bao). Crêpe . bilini. Chinese ei pannenkoek. peking eend wrapper. meel Tortilla . Burrito . piadine. Vietnamese loempia's . loempia.
»Huidige pagina: Paratha machine expert - ANKO
Paratha making machine productie met totaaloplossingen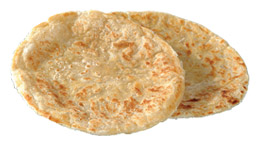 Paratha
De paratha heet parotta, Parat, en patta, porott, enz. Het is een soort van India plat Brood . De paratha werd voor het eerst bedacht in de oude regio Punjab en is erg populair in heel India. In India, Aloo paratha, lacha pratha zijn verschillende soorten parathas.
Indische immigranten nam dit gerecht naar Maleisië, Mauritius en Singapore, wat resulteert in variaties zoals Roti canai en Roti prata. In Myanmar, waar het bekend staat als Palata, wordt het gegeten met curry of gekookt met of ei of schapenvlees, of als dessert met witte suiker. Htat ta ya, letterlijk "een honderd lagen", is een gebakken schilferige meerlagige paratha met ofwel suiker of gekookte erwten. Paratha in Trinidad en Tobago verschilt van de Zuid-Aziatische paratha in dat het over het algemeen dunner en groter.
Automatische Laagjes en gevulde Paratha Productielijn LP-3001

Specificatie van de Automatische Laagjes en gevulde Paratha Productielijn LP-3001
| | |
| --- | --- |
| Lengte | 10350mm |
| Breedte | 7550mm |
| Hoogte | 1700mm |
| Elektriciteit | 220 / 380V, 50 / 60Hz, 3Phase, 10kw |
| Netto gewicht | 4500kgs |
| Gewicht van de productkenmerken | 50 ~ 130 g / pc |
| Min. Dikte | 3mm |
| Max. Laag | 32 Layer |
| Diameter van Paratha | 180mm (Verschillende grootte is beschikbaar) |
| Capaciteit | 2800 ~ 4000 stuks / uur |