Anko Food Machine Co., Ltd.
Paratha processing machine expert - ANKO
OEM/ODM Paratha making machine manufacturing
Food making machines for spring roll pastry. spring roll. samosa. puff pastry. paratha. lacha paratha. green scallion pie. chapati/roti. pita bread. Chinese egg roll. Chinese hamburger (gua bao). crepe. bilini. Chinese egg pancake. peking duck wrapper. flour tortilla. burrito. piadine. Vietnamese spring roll. lumpia.
» Current page: Paratha processing machine expert - ANKO
Paratha making machine manufacturing with total solutions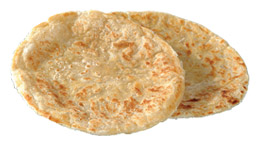 Paratha
The paratha is called parotta, parat, and patta, porott, etc. It is an kind of India flat bread. The paratha was first conceived in the ancient Punjab region and is very popular in whole India. In India, Aloo paratha, lacha pratha are different kinds of parathas.
Indian immigrants took this dish to Malaysia, Mauritius and Singapore, resulting in variations such as roti canai and roti prata. In Myanmar where it is known as palata, it is eaten with curries or cooked with either egg or mutton, or as a dessert with white sugar. Htat ta ya, literally "a hundred layers", is a fried flaky multilayered paratha with either sugar or boiled peas. Paratha in Trinidad and Tobago differs from the South Asian paratha in that it is generally thinner and larger.
Automatic layer & stuffed paratha production line LP-3001

Specification of Automatic layer & stuffed paratha production line LP-3001
| | |
| --- | --- |
| Length | 10350mm |
| Width | 7550mm |
| Height | 1700mm |
| Electricity | 220/380V, 50/60Hz, 3Phase, 10kw |
| Net Weight | 4500kgs |
| Weight of Product | 50~130g/pc |
| Min. Thickness | 3mm |
| Max. Layer | 32 Layer |
| Diameter of Paratha | 180mm(Different Size is Available) |
| Capacity | 2800~4000 pcs/hr |